Welcome to Clapham Terrace Community Primary School and Nursery.  Our Early Years team consists of five adults, each with high quality Early Years experience and academic study.
Our role is to enrich your child's learning, and to provide your child with a secure and strong foundation.  We promote independence and perseverance, we aim to develop their confidence, and encourage the children to explore through play based experiences. We provide a balance of child initiated activities, and adult directed sessions that we hope will equip your child with lifelong learning skills. We use the 'Characteristics of Effective Learning' and the Early Years Foundation Stage framework to ensure you child succeeds.
'The impressive Early Years area not only includes the environment and creative use of resources, but also skilful staff whose specific use of language, including open questioning, encourages children to contextualise their creative play and to justify their responses.'

Inclusion Mark Report June 2017

'Reception classes offer a very high quality immersive environment and in which the staff team skilfully supports effective learning through focused, structured activities, balanced with child initiated opportunities.'

Inclusion Mark Report June 2017
Pirate Day
Many thanks to Rachael Rogers and the Health and Early Years students of Warwickshire College for a fabulous afternoon of creativity and collaboration!
We took part in many exciting learning experiences and even constructed our very own pirate ship! Our next task will be to name it and set sail. Shiver my timbers!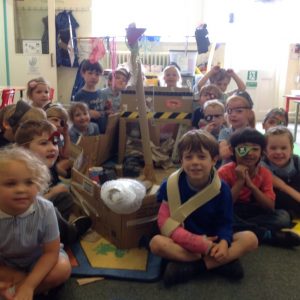 Aliens!
Early Years are Out of this World!
In the classroom there is a new space display tent.  Inside the tent it is very dark and there are glow in the dark stars and planets for us all to look at.
We are also reading a new book 'Aliens love underpants'.  Mrs Powell is wearing pants on her head and going around the classroom to celebrate!   Mrs Clark said "Mrs Powell is enjoying walking around Early Years with her pants on her head!"
On Wednesday we came in to school to discover that during the night someone or thing had been in to the classroom and made a terrible mess !   We think it could be aliens!